Welcome to TEACHING WOMEN TO FLY
Why are there so few women pilots in America? In fact, only six-percent of those holding pilot certificates are female. Why is the number of women pilots so abysmally low?
Thanks to research grant support partially provided by the Wolf Aviation Fund, some of the answers are to be found right here at "Teaching Women to Fly."
The volunteer director of this research project is Penny Rafferty Hamilton, Ph.D. Dr. Hamilton cast a wide net across the aviation community. Her two-year study netted 296 completed surveys and/or personal interviews. Included within the sample are 54 female pilot-in-training (PIT) or others who started out to earn pilot certificates; however, for one reason or even several, did not complete their flight training.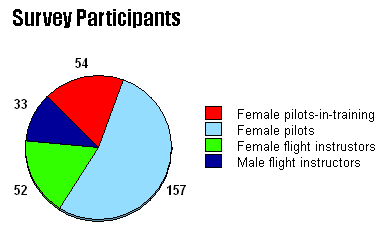 Also responding to her call, were 157 women pilots, some with advanced ratings and experience in helicopters, soaring, commercial and military aviation. Fifty-two female and 33 male flight instructors shared their insights. Thanks to all who shared their thoughts and experiences.
After all the results of the survey and interviews were tabulated, 101 ideas on how to increase the number of women pilots were generated. The 101 have been reduced to the Top 10 Things we should be doing to increase the number of women pilots and the Top 10 Things we should stop doing right now!
We all can encourage women to experience aviation. This study suggests women are an underserved and little understood segment of general aviation.
The top ten barriers that stop women from learning to flying. PDF FILE
The top ten ways to increase female success in general aviation. PDF FILE